2009-09-17(Thu)
Pangya Season 4!
I've been a big fan of pangya ever since it first came out. It's one of the few mmos that's just as fun now as it was then. It's made by Ntreev soft, but it was originally was distributed in US by OGPlanet. They were really great at first, prehaps the best MMO distributer I've seen, unfortunately though, they kinda started slipping near the end, when they had more games to keep track of, oh well.
But then, it was bought back by Ntreev's own USA branch, so now the server's run by Ntreev themselves :O With it they brought in Season 4 to the mix, awesome!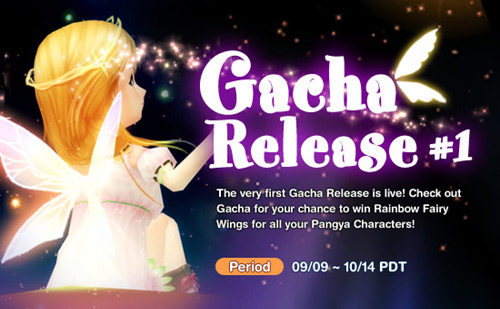 Panga's always been a free game, that makes it money off charging real money for game clothes. You wouldn't think I'd fall for that so easily, but you'd be WRONG. Dead wrong. Nearing the end of OG's reign they started introducing various lotteries into the game, which are like, pay for a ticket and get (usually a crap) item. First they introduced Black Papel which I really sucked at, then Mr. E Card, which used real world money. (Honestly it's really close to irl gambling...) Like 20 cents per ticket or something? I can't remember.
Anyway when the server moved, Black Papel stayed but Mr. E was nowhere to be found. Did he get shot for taking some poor people's moneys? Maybe. It eventually did comeback as Scratchy cards, which work a bit different. Now you get tickets free everytime you get $5 worth of real money clothes. I'm not sure which I like better, leaning tword the old way because the rates seemed alot better.... hm. (When it first came out I spent a whole $10 on it and got some wand clubs I really wanted, with like 5 tickets left... lol.)
So I figured well it's probably just like gambling that they took it off right?... WRONG. Because, last week, they added Gacha, which is just like the old way. Each gasha chance is WAY more now. (Like $2 a try, jeez) but the rates seem a lot higher too. When they added it, they gave everyone a free ticket. I wanted to try so I did and....

... I got the rare item! For my favorite character at that! Awesome!

Sadly even though she's my favorite, she doesnt really have many clothes that match the wings/ I thought the one piece bikini I had kinda gave her a cute fairy look, although it's kinda showy. :P

What the wings do are really cool. They slightly increase the size of the bar you have to get "Pangya!" (The same thing as "Nice Shot!" in most golf games) and it helps ALOT. I'm really surprised how often I get it 1px and end up in the water or something.
Doesn't help my bad playing though...!
As far as looks go, I think they're adorable, although they're a bit small. Maybe that's just because Cecilia's tall, lol.
I'm really tempted to get a few more tickets before it goes away and try to get Kooh or Arin's wings, they have alot more fairy/angel looking gear. Oh well, we'll see~





Also I'm absolutely in love with this dance. Hahaha! They added a ton of cute animations but this is just awesome, lol. Also I love the swimsuit accessories I bought.... even though I bought no actual swimsuits. (I like never wear the suits but often wear the accesories. The lack of mix and maching when it comes to the swimsuits makes them hard to really put with anything.)
Also FLOWER. Random Glitch. No idea how this happened but it's hilarious. Sadly it went away when I moved.

Yep. See ya :3